Bud's Scholars
Graduates of the Eller School of Business:
Almog Paz'17, Senior Sales Development at LinkedIn
Brooke Sites '18, Associate Analyst at FIJI Water
Edward Ingham '18, Sales and Trading at Citi Bank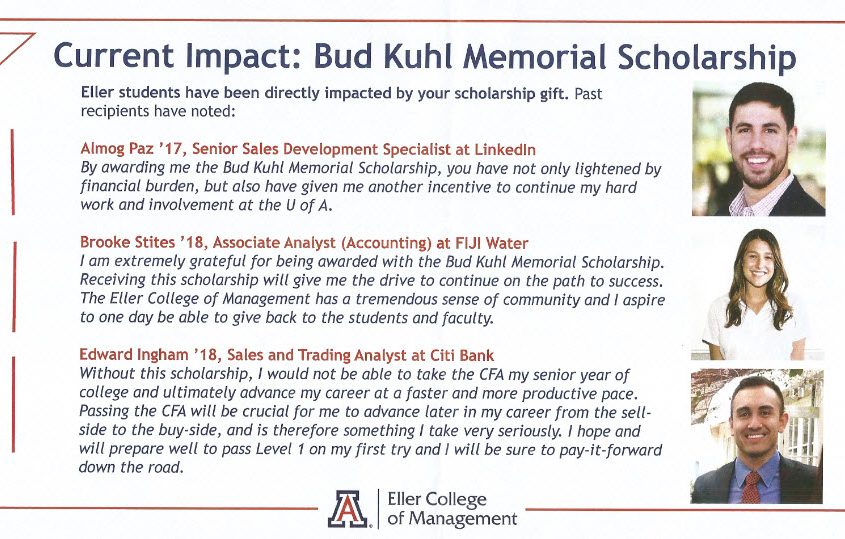 2017/2018/2019 Donations:
2015/2016 Donations:
$6000 to UCP/OC (to  be given April 2)
$2000 to Orangewood Teen Transition Program


$2000 to Angels Baseball Foundation, where 100% goes directly to fund kids programs in the community.
$1000 to Huntington Youth Shelter
$5000 to U of A Bud Kuhl Scholarship Fund
2014/2015 Donations:
$6600/UCP-OC:  Donation to support the Bud Kuhl Resource Room
$600/Boys & Girls Club Anaheim
$1500/South County Outreach
$500/Project Access
$500/First Tee
$1000/Kawanis Club: Athletic Club  Scholarship
$300/The SMART Foundation
$500/Girls Inc.
$3000/Huntington Beach Youth Shelter
$3000/Angels Baseball Foundation:  Donation to cover all expenses and resources for BK7. 100% of the Foundation donations go to charity.
$5000/University of Arizona Bud Kuhl Scholarship:  A scholarship has been awarded to an OC High School student for recognition of athletic and community achievement.
We are asking for your input.  Do you have a worthy cause to recommend for a Bud Kuhl donation? Please reach out and let us know.