A Message from Dennis Kuhl: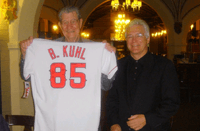 Aloyious Kuhl was born on March 27, 1923, in Beckemyer, Illinois.  He was the oldest of seven siblings and was nicknamed "Bud".
He entered the United States armed services in 1943 and served in World War II, reaching the rank of Sergeant BTRY-A 515 FA-Battalion.  The night before he left to join the war in Europe, Bud met his future wife in New York.  They corresponded for three years, having memories of their meeting and hopes of a life together after serving his country. Upon his honorable discharge in 1946, he went back to his home in Illinois to tell his parents he was going to NJ to marry Mafalda "Nellie" Corigliano. Wasting no time, they were married and on October 2, 1947, the first son was born – Dennis Aloyious Kuhl.
Dad never talked much about his overseas experience, including combat. Pictures reveal a formal, military man that fought for our country. I remember my dad as the most hard-working, compassionate man who taught me and my brother so many things. He did that by example more than words, which is a virtue I treasure. He was a big man – at 6'5″ tall. And, he had a love of sports like no other. We spent many nights visualizing a game via the transistor radio!
My dad loved baseball, and was a huge St. Louis Cardinals fan. As a young boy, he also made sure that I had opportunities to attend NY games, especially when his beloved St Louis team was in town. We had a great father/son relationship and the great game of baseball kept it strong. When I wanted to play, he taught me the best he could and would never deny the time to play some "catch." He coached my little league team, which was a Babe Ruth team.  That is when I realized my Dad was now more than my dad… he was my coach and I shared him with my teammates. I will always remember him as the "gentle giant" loved by all. The remembrance of his compassion continues to inspire me to respect and give back to our community and less fortunate.
Bud passed away on September 2, 2008.  He is survived by Laurette (Muehleisen) Kuhl, with whom he wed in 2007.  She lives in St Louis, Mo, and at 95 years old is a loving part of my life.
Bud, my father,  saw me reach a pinnacle in my career, and I am so thankful that I had five years to share great opportunities. Every win and every loss brings a reflection of the grace and goodness of my father.
I feel blessed that every year that I have such special friends to help me put his event together, and play a fun baseball game at Angels Stadium. The money that we raise is given to local charities in his honor–100% of all proceeds. I sincerely "Thank You" for all your kindness and support.
Dennis A. Kuhl